Kelso Coin: learning to "make a deal"
Kelso Coin – Learn how to "make a deal" PDF. Click here to download.
Kelso Song: "Try an Alternate Way"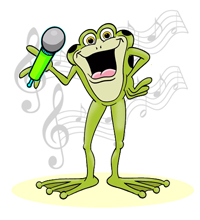 ---
Kelso Music Video: "It's Your Choice Baby"
Kelso Paper Puppet
supplies:
Scissors
Tape
(OPTIONAL) Crayons, Markers or Colored Pencils
directions:
Print out the Kelso template (body and limbs).
(OPTIONAL) color in Kelso's body and limbs.
Cut along dark grey lines.
Fold along dotted lines.
Tape body together where indicated.
Attach arms where indicated.
Tape legs along inside of body.
You're Done!
---
Kelso Bingo Cards
Kelso Bingo is a great way to check for retention after teaching students Kelso's 9 Choices.
Just click on the thumbnails to the left to download the two Kelso Bingo Cards, then print and and play! Students can also color in the cards for more Kelso fun.
This new game was created by Shannan Sproull, School Counselor at Corvallis Primary School in Corvallis, Montana. Thank you, Shannan!
---
Kelso Lesson Plans
These supplementary lessons to use with your Kelso's Choice program will keep your students interested and your lessons fresh!
Familiar children's books such as Rainbow Fish and Spaghetti in a Hot Dog Bun are used to reinforce those 9 important Kelso's Choices and help kids understand them in a different way.
These helpful and entertaining lessons were created by Susie Carrell, School Counselor for the Davis Joint Unified School District in Davis, California. You are amazing, Susie!
---
Kelso Playground Banner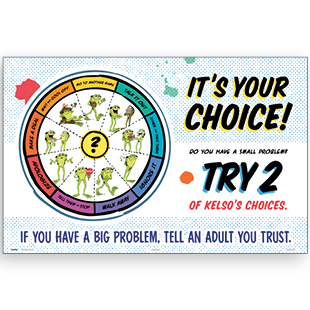 To remind students to keep the peace, bring Kelso's Choices to the playground! A banner will act as a reminder for students to work out their small problems on their own.
Get inspired by this banner created by Highview Elementary School in Nanuet, NY. Brilliant!
Kelso now has his very own vinyl banner!
The official Kelso's Choice selection of giant banner are 40″ x 62″ (approx. 3-1/3ft x 5ft) made of low glare, fire-retardant vinyl with hem and grommet to withstand the outdoors. For more information or to purchase, click here.
---
Kelso Lesson – Grade 1: Respectful
A "Kelso Says" game to teach young students the importance of polite words (or "Manners Words") in a fun, engaging way.
---
Kelso Lesson – Grade 4: Responsible
A interactive lesson teaching students the responsibilities required of different careers.