Here's an idea… Frog Fridays!
We have a great idea for you on this fabulous Friday! …Or should we say, on this fabulous Frog Friday?!
Erin Grigsby of Melrose School in Jamestown, Rhode Island gets her students excited about conflict management by hosting a special Kelso event at the end of the week. She's affectionately called this day "Frog Friday," where her students wear bright green shirts with the message "The Frog Expert" printed on the front to encourage her kids to solve small problems on their own.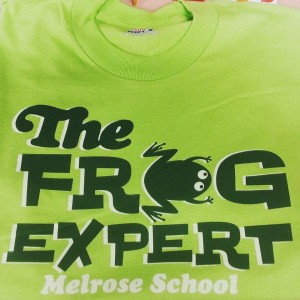 Although the shirts are really cool, they are not just a fashion choice – they assist in motivating and educating her kindergarteners about conflict management in a very positive and engaging way. By getting her kindergarteners comfortable and excited about Kelso's Choice, Erin is setting very solid groundwork for peacekeeping as her students begin their elementary school-long journey to using the curriculum and its lessons. As an added bonus, school staff and parents are jumping on board as well!
ERIN DESCRIBES THE EVENT IN HER OWN WORDS:
BACKGROUND:
"I am a school social worker in the Jamestown, Rhode Island School District. I was introduced to Kelso's Choice program while I worked as a teacher's assistant in a kindergarten classroom. Once I finished my master's degree and started my first job as a school social worker, Kelso's Choice was the first curriculum I wanted to teach to the school district I worked for.
Melrose Elementary School in Jamestown receives Kelso's Choice in every classroom each week. I like to use role-playing with students to help them practice using the Kelso's Choices. Older students create videos and younger students use Kelso and Lily puppets to help them rehearse how they would solve small problems with the nine choices."
ABOUT FROG FRIDAYS: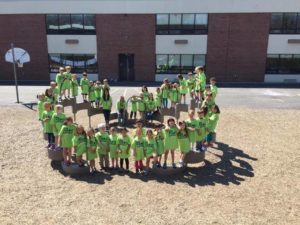 "In the kindergarten classes this year we started the idea of Frog Fridays. Staff in those classes reinforce the Kelso Choices during morning meeting time. Each student has also created their own Kelso's Choice book to take home to encourage parent involvement.
Recently, every Kindergarten student was surprised with a t-shirt this year that is worn on Frog Fridays. Students were named "Frog Experts" after they graduated from learning the Kelso curriculum. When they come to a staff member with a small problem, they are reminded they are a Frog Expert and can solve the problem!
"I am a school social worker and I teach Kelso's Choice to every classroom at the elementary school. This year I designed t-shirts for the kindergarten class. We wear them on "Frog Fridays".
It promotes confidence in problem solving and peacemaking.
This is a great curriculum to build students' confidence and self-esteem in solving small problems independently. Staff enjoy the lessons and report it improves interactions and cooperation between their students. Thank you so much for this effective program!"
– Erin Grisby, Melrose School
And thank you, Erin, for sharing your idea! This is yet another ingenious way our creative educators are building their own activities to support the Kelso's Choice curriculum and its lessons. Are you adopting this idea in your own school? Post a comment and share! We'd love to hear how this activity works for your students!
HAPPY FROG FRIDAY!
SHARE YOUR STORY!
Have a unique idea, story, or just want to share your thoughts on the Kelso program? Let us know for an opportunity to be highlighted on our blog!
customerservice@kelsoschoice.com or message us at https://www.facebook.com/KelsosChoice!