Choice wheel
Often, we get emails saying only, "What is the choice wheel?" Or "Where can I get the choice wheel?" What customers are referring to is the Kelso's Choice Conflict Management Wheel. It is one of the foundational tools of our system.
What exactly is a choice wheel? As the name suggests, it's a simple wheel that presents children with choices. Nine, to be exact! The Kelso's Choice Conflict Management Kit is a system for children in grades K-5 to become empowered to solve their own problems. First, the system helps you teach them the difference between a big problem and a little problem. After that, it gives them the tools to resolve conflict on their own. That's where the choice wheel comes in!
Here it is: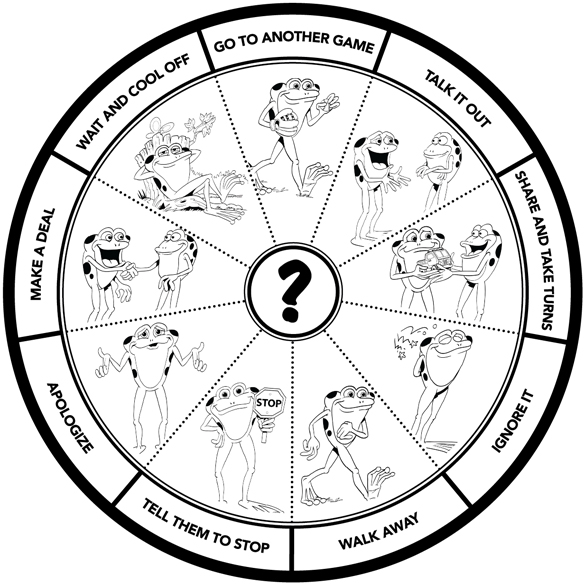 The choices on the choice wheel are simple! Here are a few:
Tell them to stop
Walk Away
Apologize
Children of all ages and abilities can easily remember Kelso's Choices with this handy visual reference. Print it out, copy it, give it to kids to color. The sky is the limit!
Ready to get more ideas of how to use this great tool to reduce tattling once and for all? Get your instant download of our popular Stop Tattling Resource Kit: click here.
If you're ready to learn more about the complete kit, here's a short description:
Kelso's Choice Conflict Management Kit, our flagship program now in its 4th Edition, has been beloved by school counselors and children alike for over 25 years. Helping empower children to make good choices and solve conflict on their own, school administrators and counselors often find that discipline referrals are reduced dramatically when the Kelso system is used.
Get off to a fast and simple start with the Kelso's Choice Conflict Management Kit, which includes 23 comprehensive lessons, some tailored to children K-3 and others more specifically geared to the evolving sensibilities of 4th and 5th grade students. You get:
DVD with vignettes putting Kelso's Choices into action in a way children immediately understand
Valuable Leader's Guide with nearly 150 pages of material
Over a dozen reinforcement activities
Reproducible masters, including Parent Letter, Staff Letter, Personnel Scripts, and handy Kelso's Wheels
Colored Willow Pond Storybook
Kelso and Lily puppets for acting out scenarios
5 piece K-3 poster set
5 piece Grade 4-5 poster set
Buy now: click here.