'Kelso in Action' DVD Wins Two Telly Awards
Conflict Management DVD for Elementary Schools Recognized for Its Exceptional Standard of Quality
San Francisco, CA—March 29, 2012— Cerebellum Corporation, the producer and distributor of the Standard Deviants videos, was recently honored with two 2012 Telly Awards for the "Kelso In Action" DVD in the Educational Video and Children's Audience categories. The DVD is part of the Kelso's Choice Conflict Management Curriculum and helps aid in the emotional and social growth of elementary students while acting as a bullying preventative tool.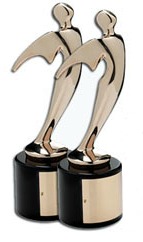 More than 20 years ago, the Kelso's Choice program was created to empower students to make positive choices and manage conflicts on their own. Today, the updated program continues to eliminate tattling, minimize classroom disturbances and reduce bullying, while making elementary aged children aware of threats of the internet and texting. The program comes highly recommended by elementary guidance counselors, teachers, parents and counseling specialists.
Led by Kelso, a child-friendly frog, the program teaches students mediation skills by presenting nine easy-to-recall ways they can resolve minor conflicts. Using the DVD, students are able to determine the difference between problems they can handle on their own and problems that require an adult's help.
"Our production team worked diligently for two years to develop and update the Kelso's Choice Curriculum and DVD to make it what it is today," said Cerebellum President, James Rena. "Receiving not only one, but two Telly Awards, is a remarkable honor and further affirms our work in producing quality, research-based resources for the classroom."
The Telly Awards honor the finest video and film productions from around the world. With more than 13,000 total entries submitted this year, the Telly Awards is a highly sought-after award and a resounding achievement for Cerebellum and Kelso's Choice.