The Kelso's Choice wheel of choice is one of the key components, and one of the most recognizable parts of the Kelso's Choice Conflict Management system. The wheel of choice gives children nine simple options from which to choose when solving a problem. Because it's simple, kids can instantly understand the Kelso's wheel of choice. They'll start using the choice wheel right away. Educators and parents tell us that they post them on desks, invite kids to color them, and create activities to help bring the choices alive for children.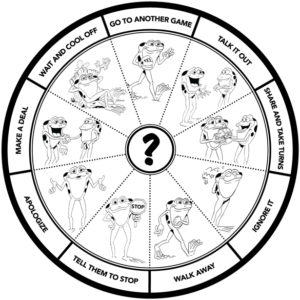 How do you use the The Kelso's Choice Wheel of Choice?
For more ideas of how you can use the wheel of choice in your classroom or family, be sure to download our Stop Tattling Starter Kit. It is full of free activities, printables and much more. Click here for more ideas on how to use the Kelso's Choice wheel. You'll get your Stop Tattling Starter Kit as an instant download.
If you're ready to learn more about our family of products, go to our Products page: click here. It has the full family of Conflict Management Products.
Wheel of choice posters: click here.
What are the choices on the wheel of choice? They're easy for children to learn and remember.
Some of the choices:
Talk it out
Share and take turns
Wait and cool off
The choices are simple, memorable, and illustrated by the beloved Kelso. He acts them out as a visual cue for children. Also, the activities included in our Kelso's Choice Management Kit also include kinetic and auditory reminders to help all kinds of learners. It's been used in schools and homes for over 25 years. Educators report a dramatic reduction in discipline referrals and tattling when they implement the Kelso's Choice System. Especially relevant is the fact that you can get started using these choices today. You'll be delighted to watch children become empowered to solve their own small problems.